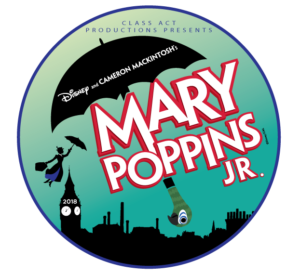 CAP Theatre's 100th Production
Your favorite practically perfect nanny takes center stage in this Supercalifragilisticexpialidocious adventure based on the beloved books, classic Walt Disney film, and award-winning Broadway musical.
Performances November 2-18, 2018 (Friday and Saturday at 7pm, Sunday at 2pm)
Want to know what to expect at CAP Theatre from auditions to final performance? Learn more!
Based on one of the most popular Disney movies of all time from the stupendous stories of P.L Travers and the Broadway musical that played for over 2,500 performances and received multiple Olivier and Tony Awards nominations, Disney and Cameron Mackintosh's Mary Poppins is capturing hearts in a whole new way: as a practically perfect Broadway Junior musical!
The jack-of-all trades, Bert, introduces us to England in the early 1900s and the troubled Banks family. Young Jane and Michael have sent many a nanny packing before Mary Poppins arrives on their doorstep. Using a combination of magic and common sense, she must teach the family members how to value each other again. Mary Poppins takes the children on many magical and memorable adventures, but Jane and Michael aren't the only ones upon whom she has a profound effect. Even grown-ups can learn a lesson or two from the nanny who advises that "Anything can happen if you let it."
Director: Thatcher Williams
Assistant Director / Stage Manager: Melissa Grooters
Vocal Director: Brian Hutzell
Choreographer: Josalynn Agnew
Costumer: Cheryl Clark
Feed the birds … and cats … and dogs … and other fur and feather friends.
Show how much you care by bringing in a couple small in-kind donations of items from the Animal Rescue League of Iowa's Fetch! List. Your generosity will help the ARL care for animals while waiting to be adopted. When you donate a couple of items while attending a performance of Mary Poppins Jr in our theatre, we'll give you a free box of popcorn and beverage (soda, lemonade or bottled water) while you watch the show as our way of thank you.
(limit 1 free box of popcorn and 1 free beverage per patron per performance)

Fri, Nov 2, 2018 7:00 pm
Sat, Nov 3, 2018 7:00 pm ** Re-CAP Night – CAP Alumni Night (NEW NIGHT!)
Sun, Nov 4, 2018 2:00pm
Fri, Nov 9, 2018 7:00 pm
Sat, Nov 10, 2018 7:00 pm
Sun, Nov 11, 2018 2:00 pm
Fri, Nov 16, 2018 7:00 pm
Sat, Nov 17, 2018 7:00 pm
Sun, Nov 18, 2018 2:00 pm
Doors and walk-up ticket sales at box office open 30 minutes prior to show time.